PCSSD teen court will be staffed and operated by district administrators, Pulaski County District Court and community stakeholders. It will be located in the following locations: high schools, Central Office and/or Little Rock District Courts.
WHO WILL STAFF THE TEEN COURT?
PCSSD teen court will perform a range of tasks, which can be completed by one or more people, depending on their time allocations, roles and responsibilities. The major tasks are, at minimum:
Develop and maintain relationships with referral sources, community service partners, and other stakeholders;

Accept referrals and conduct intake interviews with potential respondents and/or parent/guardians;

Train and select prospective teen court members and supervise their participation in teen court. If in use, manage the jury pool and jury member selection;

Assign roles and responsibilities to youth court members for hearings and supervise hearings;

Debrief respondents and parents after hearings;

Monitor respondents'' compliance with sanctions;

Fundraise and manage program budget; and

Track program and case data.
While teen courts may make use of existing staff to cover these tasks, you will need to make sure that the program is adequately staffed for the number of youth members and the expected number of hearings.
TEEN COURT ORGANIZATIONAL CHART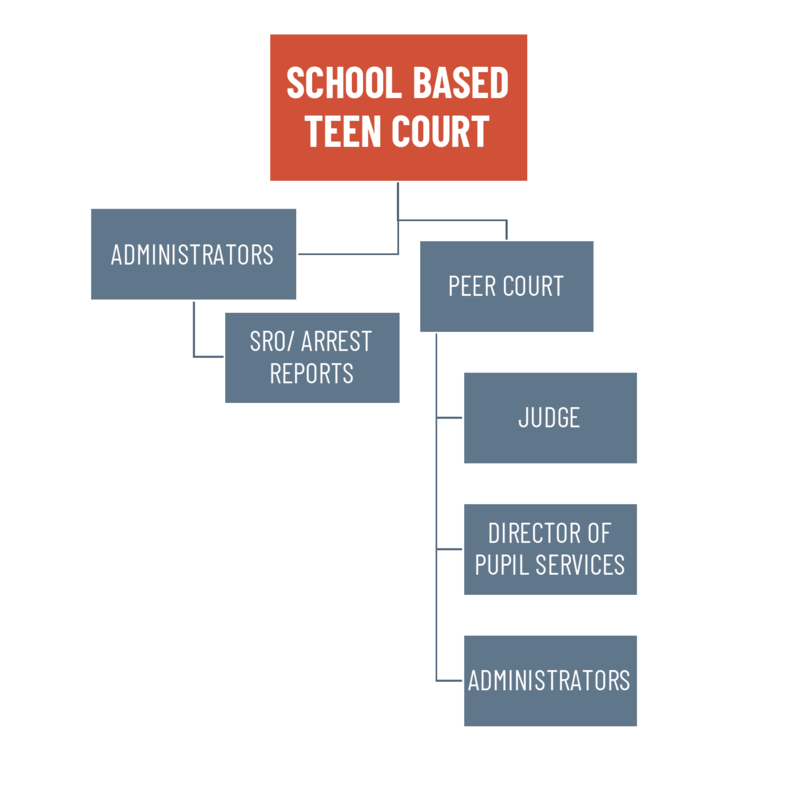 Attorneys, professionals, parents, citizens and other adult volunteers are needed to coach the teens, assist with management, develop additional resources for youth, etc. Anyone interested in volunteering with Teen Court should contact the Office of Equity and Pupil Services at 501.234.2016.